It was a warm and welcoming atmosphere as we joined EMHIS IX online from various places (home and work offices), different time zones, and countries in Europe (and beyond). The Covid-19 pandemic might have put a spanner in the works on international travel but with the wonder of Zoom and the Wonder meeting platforms we were able to get together again as a group. EMHIS IX was organised in collaboration with DigitalHistory@Lund, a research platform run by the Section for Media History and the Centre for the History of Knowledge (LUCK) at Lund University (Sweden), which also set the theme for the conference: 'Digital Sources, Digital Methods'.
The day began with news and updates from the EMHIS steering committee, and we were also reminded of our last (in person) gathering in the enchantingly setting of green hills and grounds, of Gregynog Hall, in May 2019. Little did we know then how much our work, research, and every day (social) experience, would change moving forward to May 2021.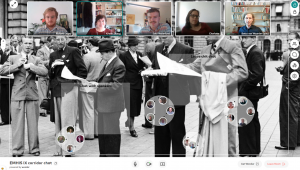 After a brief news update from the steering committee our first session began. This session included short introductory presentations from new EMHIS members. First out was Hermann Breitenborn (Hamburg University, Germany) who talked about the city of Hamburg and its districts, and how the city was in focus in the so called 'St. Pauli films' or 'Hamburg films' of the 1960s and 1970s. What shots and locations were used to create the image of the city? A transnational theme was also introduced as many of the film rights were sold internationally. Our second speaker Mari Pajala (University of Turku, Finland) talked about her research on Finnish television, for example, Cold War era contacts between Finnish television and state-socialist television, before introducing her current research on Nordvision – a network of Nordic public service broadcasters established in 1959 to encourage programme exchange, co-operation, and a sense of a Nordic community. From Nordvision to Swedish television, our third speaker Emil Stjernholm (Lund University, Sweden) talked about his new research project that looks at television as a medium for government information and the role of the Swedish Television in particular as a communication tool for government. A key component of the research will be the analysis of Anslagstavlan (a bulletin programme introduced in 1972) and Emil shared some thoughts and insights of how the collection will be analysed using digital methods – a topic we returned to in our afternoon session. Eskil Vesterlund (Lund University, Sweden) presented an overview of his ongoing PhD research that aim to historicise opinion polls by studying the Swedish Gallup Institute, and the Gallup poll as a media technology in the 1940s and 1950s, asking the question: how did Gallup polls represent and mediate the world? The final introductory presentation came from John Walsh (National University of Ireland, Galway, Ireland) who talked about the significance of Irish pirate radio 1978-1988 for politics, economy, society, culture and technology, and its transnational dimensions. We were also introduced to the work that has been done to build and develop the Irish Pirate Radio Audio Archive and were also treated to an audio excursion of Irish pirate radio. The session produced interesting questions and discussion and as a network we welcome our new members and look forward to follow the different projects and research as they progress.
The afternoon panel focused in on the theme of the conference: 'Digital Sources, Digital Methods'. The first talk "Big Bird Twitter: Scalable readings of Sesame Street remembrance on a social media platform" was presented by a team at Aarhus University (Denmark) led by Helle Strandgaard Jensen, who together with colleagues Alexander Ulrich Thygesen, Josephine Møller Jensen, and Max Odsbjerg Pedersen, asked the question: "How is Sesame Street being remembered on Twitter?" The team shared initial findings and useful recommendations including suggestions of resources available online such as The Programming Historian: Beginners Guide to Twitter Data. From Twitter and Sesame Street we then moved to Cold War tourist guidebooks. In the talk "Mapping tourist guidebooks: Digital approaches to the history of attractions", Sune Bechmann Pedersen (Lund University, Sweden) shared observations from using geocoding to map places of interest listed in post-war guidebooks (aimed at Western tourists) to Communist Europe. The aim; to move away from simply qualitative analysis of travel guides and consider what results would be generated with a quantitative approach? Of particular interest, what would the mapping look like over a longer period of time? Tentative findings indicated some interesting continuities in what tourist attractions were promoted before and during the Cold War. The last speaker in the session was Frédéric Clavert (C2DH, University of Luxembourg, Luxembourg), the Managing Editor of The Journal of Digital History, whose talk "The Journal of Digital History and the multi-layered article" presented good insights and an introduction to writing digital history. The journal was launched in 2020 and aims to promote "a new form of data-driven scholarship and of transmedia storytelling in the historical sciences" – with the guiding principle of multi-layered articles. The panel provided fascinating insights in how to use and work with digital sources and digital methods. This was a good reminder (to some of us!) of how digital literacy can enhance our research, data collection, and analysis. The sharing of ideas and experience in using digital sources and methods will surely be a theme to be continued within EMHIS.  
The day closed with some reflections and a look to the future. There are plans for funding applications and the continuation of the very successful EMHIS Lunch Webinar series (launched in February 2021) so watch this space for further details about the autumn webinar schedule. It was lovely to be part of the EMHIS spirit again and we are looking forward to the next Forum where we will hopefully be able to meet in real life!
Report written by Kristin Skoog, Bournemouth University, UK