We found ourselves in a very warm and sunny Rome (quite a contrast from the gloomy, rainy England, I had left). Professor Andreas Fickers, from the University of Luxembourg, who was our guest at the last EMHIS forum in May, had very kindly invited EMHIS to take part in an academic workshop on 'Networking Networks' as part of the EUscreenXL conference that took place at the Casa del Cinema in Villa Borghese.
The EUscreenXL conference From Audience to User: Engaging with Audiovisual Heritage Online, aimed to address the challenges facing online cultural heritage initiatives and to further discuss these with archivists, scholars of cultural and audiovisual heritage, web designers and policymakers. Areas in focus during the conference included various questions around user engagement and how to build and sustain communities with online content. More information about EUscreenXL can be found on their website.
The first day saw a range of key notes and paper presentations from academic scholars and audiovisual archive representatives. The day ended with a special exhibition tour of 'Luce – the Italian Imaginary' at the Plaster Casts Gallery, that celebrated the 90th anniversary of the Istituto Luce-Cinecitta, exploring visual memories of Italy through the 20th century. After being somewhat lost in Rome, we managed to find the gallery and the multimedia exhibition. The evening ended with networking and wonderful Italian food.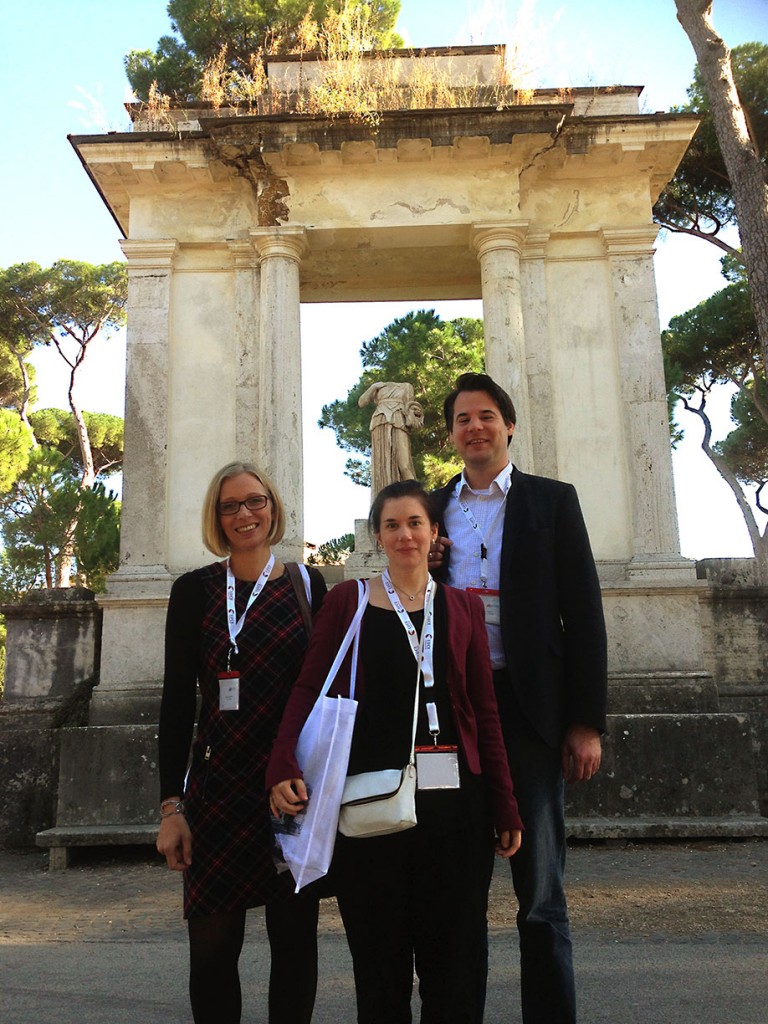 On the second day our workshop was in focus. The aim of the workshop was to bring together scholars already engaged in European networks that are exploring transnational histories of broadcasting to share and learn about each network's scholarly ambitions, conceptual and methodological approaches and good practice in establishing and running these networks. A total of six networks presented their work:
Each network gave a short presentation of the aim, structure, ambition and work they have each set out to do. Marie Cronqvist presented EMHIS with support from myself and Christoph Hilgert. The networks were all at different stages and it was quite useful to see how some had progressed. Each network raised important issues and challenges to consider, and overall, it was a valuable session. For EMHIS, this allowed reflection on our approach and raised several important things to discuss at our next forum. This was followed by smaller group discussions with members from the different networks addressing the importance of 'networking networks', how to do it and why, and further thoughts and approaches to the concept of the 'transnational'. Groups reported back and further discussion ensued.
The day also included presentations of examples of engagement with audiovisual history. For example, Eggo Müller (Utrecht University) talked about doing television history online, as part of a teaching experiment. Jacob Kreutzfeld (University of Copenhagen) presented a collaborative platform for sharing audio and metadata as a part of the TRE project, and John Ellis (Royal Holloway) talked about a research project that aims to re-enact and simulate television production contexts since the 1950s with the aim to provide contextual material for television archives.
Overall the conference was a success and EMHIS made important contacts and tied new connections with European scholars that will be very valuable in our future work.
/Kristin