The Radio Research Section of ECREA held their 6th conference at the Department of Social, Political and Cognitive Sciences of the University of Siena, Italy, from 19-21st September 2019. The theme was Radio as a Social/Convivial Media: community, participation, public values in the platform society.
The conference gathered together scholars and practitioners that are currently exploring the complex entanglement between radio/audio/digital media and society. The aim was to situate radio studies within the broader contemporary media ecosystem and created a dialogue with Internet Studies, Platform studies, Social Media studies, critical political economy of the media, Media History, digital media management, Cultural Studies, production studies, ethnography, sound studies, and social sciences.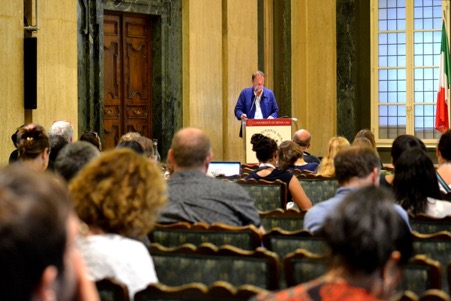 170 delegates from 35 countries attended, hearing keynotes from Elena Razlogova, Christina Dunbar-Hester, David Hendy, David Fernández Quijada, Enrico Menduni and Caroline Mitchell. EMHIS was well represented in panels on advertising, public radio, radio communities and talk radio cultures. Hans-Ulrich Wagner reflected on the challenges of radio cultures in times of media change, Gloria Khamkar spoke about female empowerment in ethnic minority community radio and Nelson Ribeiro discussed how advertising played a significant role on the establishment of the first newsrooms in the Portuguese commercial broadcasters. Kathryn McDonald's paper focussed on suicidal callers to live UK radio phone- in shows and she was honoured to be awarded the first Guy Starkey Prize for most original presentation. Guy was a former Chair of the section and a key figure in connecting European and global radio scholars.
Siena was a beautiful place to visit. We were lucky enough to enjoy the September sunshine and were treated to an evening tour to the hillside for our social dinner in the magnificent cloister of La Certosa di Pontignano – a Carthusian monastery and church. This was a great chance to connect from scholars and practitioners with so many different approaches – and to reconnect with our EMHIS colleagues once again.
Kathryn McDonald